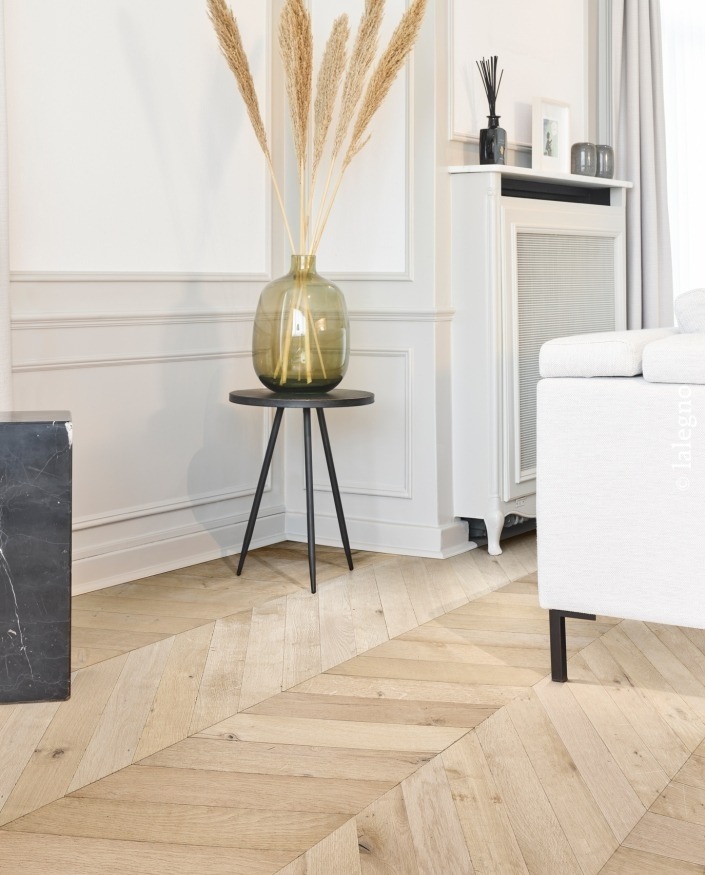 5 patterns for your wooden floor
The world of interior design is always changing. This is also reflected in the various patterns for wooden floors. Throughout history, different styles have emerged, inspired by events and introduced by interior design icons. Lalegno's range responds to these patterns with targeted product groups.
Image
Strip parquet remains one of the most popular floor coverings. If you want to make the most of the charm and natural look of wood, this pattern emphasises the wood structure. Over the years, production methods have evolved and so have the variations within this pattern. Long, short, narrow or wide strips? Installed in length, in width or even diagonally? Or why not vary various widths of planks? Let your creativity run wild. 
Image
A herringbone parquet is more than randomly installing short planks against each other. All parts of a herringbone floor are connected and form a whole. The end and long sides are installed perpendicular to each other in a 90° angle. The pattern is reminiscent of fish bones, hence the name. Lalegno's herringbone parquet range makes installing this type of floor much more accessible. For high-profile results.
Image
With a Hungarian point parquet, the planks are installed at a 45° angle, contiguous at the top. This pattern is sometimes mistaken for a herringbone parquet, but is a variant with a completely different look and a clean, calm look due to its bevelled end edges.
Image
If a floor is in the Palace of Versailles, it must be timeless and stylish. No wonder that the pattern appears elsewhere too. This artisanal installing method consists of geometric patterns in square planes. Lalegno supplies the Versailles motifs pre-glued on 80 by 80 cm squares for easy installation.
Image
Want to create a 3D effect with multilayer wooden flooring? You can do it with a cube pattern. The correct start of a cube floor is crucial for a high-quality end result. At Lalegno, 1 cube consists of 3 small parts. Guaranteed to give your interior a unique look.